Posted by Theo Heselmans on October 6th, 2009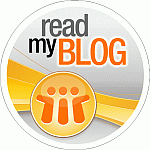 It's just incredible. Tomorrow I'm leaving for Edinburgh, to UKLUG, the week afterwards we got our own BLUG meeting in Brussels, and 2 weeks later there is NLLUG, a 2 day seminar in Amsterdam.
On top of that I received my confirmation for Lotusphere in Orlando in January.
Ed Brill added to that some great news regarding 8.5.1.
It certainly is a yellow October for me.
Looking forward to seeing some friends again !
Oh ya, I still got some 'Read My Blog' buttons left over.
Come, say hi and ask for your button !
Category: Domino/Notes Lotusphere |

Technorati: Lotus, Notes, Domino
Comments (4)
4 Responses
on 6/10/2009 21:59:13Bob Balfe

Just an fyi, your About Me page isn't working.

on 6/10/2009 22:02:26Theo Heselmans

@Bob, Fixed. Thanks for that.

on 7/10/2009 7:41:00Ulrich Krause

Where have all the buttons gone? At AdminCamp 2009 in Gelsenkirchen, I was the only one wearing a "Read My Blog" button. Same at Lotusday 2009 in Hagen earlier in September.

Once again, I will not be able to attend Lotusphere ... UKLUG, BLUG and NLLUG do not match my holiday plans.

Hope that things will get better next year.

on 27/10/2009 14:39:49Martijn Bergevoet

Hallo Theo,

Als volger van jou blog vind ik het leuk te lezen dat jij ook NLUG 2009 bezoekt.

Ik zal samen met een collega ook dit evenement gaan bezoeken.

Erg benieuwd wat deze dag ons gaat brengen :)

Wij zijn alleen op Donderdag 29 okt aanwezig.

Wie weet tot donderdag.

mvg

Martijn Bergevoet
Leave a Reply