Posted by Theo Heselmans on October 21st, 2009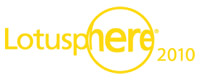 Remember my delight at Lotusphere 2009, when winning the Teamstudio Spotlight Award 2009.
This year Teamstudio does it again !

If you've created an incredible Lotus Notes application, then show the world you're a great developer !
You just have to explain the application
(and if you're one of the finalists, you have to demonstrate it over the web).
This means that also in-house developed apps are eligible !
eSurvey, the application I won with,
was developed for a customer of mine (who gave their approval).

These are the considerations for the Teamstudio Spotlight Award:
1. Complexity of task performed
2. Degree of automation
3. Size of user community
4. Business value
5. Creativity and innovation of design.

Beside making yourself (and/or your company/customer) look good, you get eternal fame, win some cool stuff, and walk away with all the great tools of Teamstudio.
So what are you waiting for:
Submit your great application ! You got until December 11th.

Here's the flyer from Teamstudio, with all the details.
Category: Lotus Notes Domino |

Technorati: Lotus, Notes, Domino
Comments (0)
0 Responses
No Comments Found
Leave a Reply